Deer Damage & Diversity
From "The Forest Conservationist"
FOREST HEALTH NOTES
Deer Damage & Diversity
Cathy Sparks, Principal Forester
RI Division of Forest Environment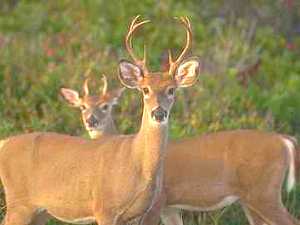 Farmers, nursery owners, and Christmas tree growers know well that increases in the population of the deer herd can mean damage and financial loss from these large herbivores. Homeowners in rural and not so rural areas are also feeling the impacts as valuable landscape plants, seasonal flowers, and fruits and vegetables are consumed. Automobile accidents with deer in Rhode Island exceeded 720 in 1999. Nationally, the average damages for these accidents are $2,000.
We have seen that deer can adapt well in close proximity to people. Deer populations have potential for rapid growth, and when these animals are hungry they will eat a large variety of vegetation and they will come right to the front door to do it. I know this is not news to most of you. What may be of interest is the growing body of ecological information that indicates the heavy feeding by deer in states like Pennsylvania and New York is having significant impact on the composition, and even the existence, of understory vegetation. Loss of the lower and intermediate canopy layers in a forest results in loss of habitat for a variety of wildlife species.
Over-browsing by deer also worsens problems with invasive exotic species of plants as deer feed preferentially on native species allowing non-native invaders to expand and prosper. Japanese barberry (Berberis thunbergii), for example, is not palatable to the deer so they feed selectively on just about everything else, enhancing the spread of this thorny shrub. While we may be adding an exotic we are seeing the potential for an overall reduction in the diversity of a natural system.
With reduced diversity in an ecosystem comes less stability and resilience when insects, diseases, and other stressors come into play. A full and complex forest community is desirable from a forest health perspective. Certainly a forest that includes white-tailed deer is desirable, as well. Management of the deer herd, which in RI approximates 11,000, is a function of DEM Division of Fish and Wildlife. The deer herd is closely monitored in order to avoid the more serious conditions that other states are currently facing.
For more information on this subject visit www.upenn.edu/paflora/index.html.
© 2001 Rhode Island Forest Conservators Organization
"The Forest Conservationist"
Vol. 10/No. 4